CMS is an acronym for Content Management System and we use it when we refer to a Content Management System.
CMS aims to help users create and manage their websites effectively even if they do not have specialized technical knowledge. Modern websites consist of various elements such as HTML, CSS, Javascript and images in various formats. One of the main functions of a CMS is the ability to organize these resources and produce content that can be read by browsers and therefore presented to visitors.
CMS allows webmasters to manage the many different sources, content types and various data that make up modern websites. In simpler words, a content management system is a tool that helps you create a website without having to write all the code from scratch!
The most popular CMS platform is WordPress (WordPress.org), which holds over 62% market share of websites known to use content management systems and drives over 35% of all websites on the internet. WordPress allows you to expertly create any type of website, from a feature-packed business website to a simple blog/blog. It's also a very popular CMS for creating online stores through WooCommerce plugins that rival huge e-commerce platforms like Shopify.
Main functions of the CMS
At a technical level, content management systems consist of two main functions. The first is the Content Management Application (CMA), which allows you to add and manage the content of your website. The second is the Content Delivery Application (CDA) which is the backend process that takes the content you added to CMA, stores it and makes it visible to your visitors.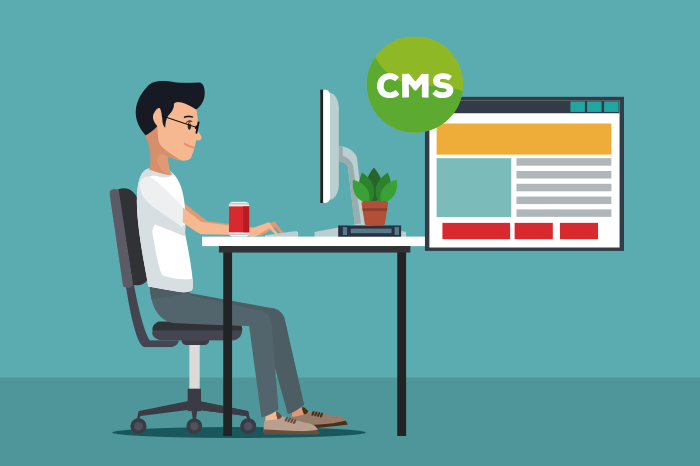 Why should I use a CMS?
We've already briefly discussed some of the features and benefits that a CMS provides, but now let's look at the details of what it can offer you and why so many websites use it.
Ease of use
As mentioned above, a CMS allows you to create a website without any knowledge of code or technical experience. Therefore, you don't have to rely on a programmer to get an online presence. You can create and manage content, customize the design of your website, and even install various extensions to add extra features to your website with ease.
Here, it is worth mentioning that most CMS platforms allow the user to add code. This means better control and more options for customizing the site.
Ready-made templates
To make the process even easier, most CMS platforms offer a variety of predefined and customized templates. They allow the user to customize the design of their website and, at the same time, many of them have additional features. For example, there are templates that are search engine friendly or responsive. By choosing a template that is responsive, you won't have to spend time making sure your website looks good on various devices, such as mobile and tablets. The template itself is built to make everything run smoothly.
Effective cooperation
One of the most underrated features of a CMS is that it allows multiple users to work on the backend of the website at the same time. This really helps improve a team's workflow and productivity.
SEO features
CMS platforms also include a variety of features and add-ons that help the user to optimize their website for major search engines such as Google. Through built-in features or extensions, guidance is given for meta titles and descriptions, XML map creation, SEO-friendly URLs, alt-text on images, optimizing site loading speed, etc. All of these are very important for achieving high rankings in Google (and other search engine) search results.
Epilogue
As you can deduce, CMS technology is a huge advance in website creation. With CMS it is much easier for the ordinary user to create their own website, and easier for those with knowledge and businesses with large teams to make changes and manage their website effectively. If you're thinking about starting your own website, we recommend doing it through a CMS that suits your needs.