The new Netflix trial is taking place in specific countries, namely Argentina, El Salvador, Guatemala, Honduras and the Dominican Republic. It is surprising that Netflix has moved to article publication on the official blog that gives all the details of how the new system works, which may indicate that we are close to wider adoption of the policy. The article states that during the trial period, Netflix will prompt users to pay an additional fee if they use their account on a TV or TV-connected device in a location outside of their main household and for more than two weeks. Each additional home will cost an additional 219 pesos per month, per home in Argentina (US$1.17) and US$2.99 in other countries.
According to Netflix, in the regions where the tests are being conducted, each subscriber account corresponds to a master "home" from which all the devices included in it can access the service. If the account holder travels, they will be able to use Netflix on laptops and mobile devices without needing anything additional. The trial allows users to purchase additional "homes" that they choose to add or skip to use the service on other TVs.
The support page explains the process:
Add an extra house
Starting August 22, 2022, when you connect to Netflix on a TV outside your home, you'll see the option to add the extra home for an additional fee per month.
If you will only use this TV for a limited time, you can watch Netflix for up to 2 weeks at no extra charge, as long as your account has not been used on this site before. After that time, the TV will be blocked unless you add the additional home.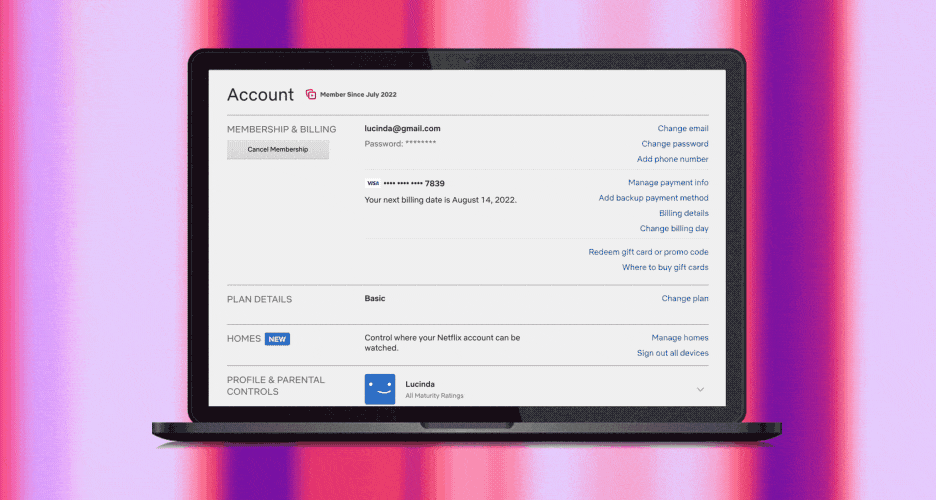 The support page makes more explicit mention of how Netflix defines "home", which is defined as "a physical location - like your home - where you can use your Netflix on any of your devices."
Further down the page, it explains what Netflix does to detect usage in a different "home".
How Netflix scans homes
We use information such as IP addresses, device identifiers and account activity.
If you are using a device in the home that you have registered as "master" and you still see a message saying that too many homes are using your account, you can first make sure that the device is connected to the same broadband connection as the other devices in the home. Then make sure the device is not connected to a VPN, proxy or any other service.
Netflix explains that using Netflix on a TV outside your home while "travelling" is eligible at no extra charge for up to two weeks, "as long as your account has not been used previously in that location. This is allowed once per location per year."
In these countries, Netflix is also working on a feature that will allow you to track where your account is being used and restrict access. If you're on the Basic plan, you can add one additional home, if you're on the Standard plan, you can add up to two, and on Premium, you can add up to three.
"It's great that our subscribers love Netflix movies and TV shows so much that they want to share them more widely," said Chengyi Long, Netflix's director of product innovation. "But today's widespread sharing of accounts between households undermines our long-term ability to invest and improve our service."
Netflix's latest move comes as a follow-up to other efforts that have been underway since the beginning of the year. Specifically, in March, the service began testing in three countries, (Chile, Costa Rica and Peru) a "simpler" way to combat the phenomenon of sharing an account by charging an extra amount for those who watched content outside the central household. In early summer we learned that these trials caused quite a few problems for subscribers as it was not clear in many cases what was applicable.