The "Connected Scarf" features a Cisco-designed EmotiBit sensor in the center, which, as the fan wears the scarf, is actually in contact with the skin on his or her neck. According to the product page on website Manchester City, the device housed in the scarf includes a PPG sensor, accelerometer, temperature sensor and electrodermal activity (EDA) sensor. All of the above are some of the most typical and common sensors found in a fitness tracker today (e.g. a smartband) however it is worth noting that the EDA sensor was a highly touted feature of the Fitbit Sense.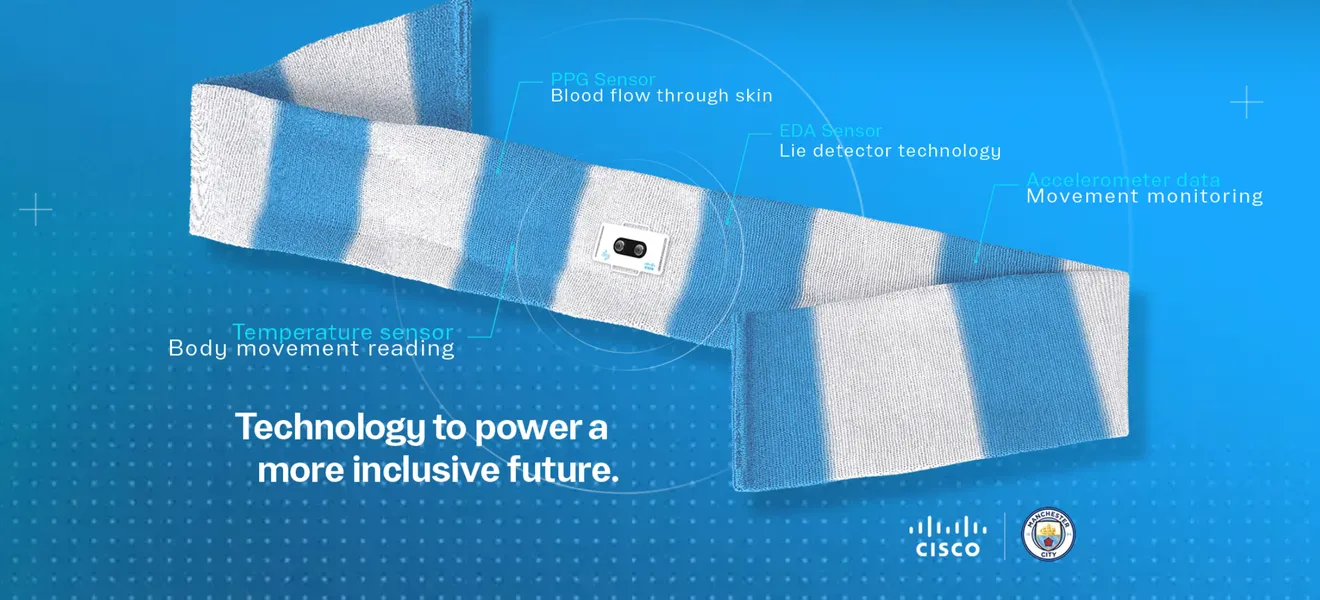 This sensor works by measuring tiny changes in skin sweat to determine stress levels, which in turn can help a device with the appropriate software to monitor and assess the user's emotional state. Essentially then, Manchester City is hoping to gain access to data on its fans' activity, heart rate and emotional response to a match.
Does a football club really need a wearable to draw conclusions about how its fans feel? One would think that something like this would be obvious. Just watch the TV footage of the fans' faces when a penalty is missed or when manager Pep Guardiola makes an unpopular player substitution. Otherwise, you can learn a lot of things by studying the subreddit r/MCFC or read the comments and replies on the official Twitter account of the team. Either way, sports teams, and not just sports teams, "love measurable data." The club's official line is that it aims to "shape more curated, tailored experiences in the future" with the linked scarf being a "study in shared passion".
The scarf is part of a "small-scale" pilot project, where some fans of the team have been selected to wear the scarf. According to the news agency Reuters, the scarf will also be distributed to some fans of New York City FC, the English club's sister club. The club says it will be available to Manchester City fans worldwide from next season.